Shining Light Award (17.11.23)
Shining Light Award (17.11.23)
17 November 2023 (by admin)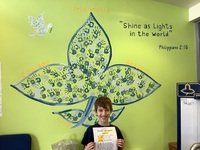 This week the recipient of the Shining Light Award is Nathan.
He was nominated by Mrs Cawston.
Nathan was chosen for being really kind, caring and supportive towards younger pupils at after-school club. He leads by example, encourages others to join in, resolves issues and always shows lovely manners. You are a great role model.
Well done Nathan.
Recognition of nominees;
Shining Light Award nominees

13th – 17th November 2023

Nominee

Is a shining light because…

Nominated by…

Freddy

Willow Class

…when another pupil was upset, Freddy went to see if she was okay.

Willoughby and Toby

Beech Class

Katy

Elm Class

…she is a brilliant friend and a good role model, she is very kind.

Tilly, Amelia and Melissa

Elm Class

Melissa

Elm Class

…when I was upset she cheered me up.

Katy

Elm Class

Rose

Beech Class

…when I lost my bottle, she helped me find it.

Poppy

Elm Class